Festival Dates – July 17 / 18 / 19
The Music – Eclectic; Folk, Rock and much more.
Two bars + Cuckoo Gin Bar
Food vendors including vegetarian/vegan
Over 30 stalls
Kid's zone with Chorley's Inspire Youth Zone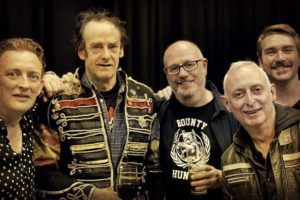 Friday 17th July
6pm 'til 11:30pm
Fluid rock, We Killed Kenny, The Onions.
Saturday 18th July
12 noon 'til 11:30pm
Renee, Rewinders, Switch Hitters, Phil Ireland, Helen May Band, Faz, The Tom Wilson Band (featuring Bianca)
Sunday 19th July
12 noon 'til 7pm
Hell Fire Preachers, Chris Tavener, Ermat & the Boy, Richard Gregory and Bob McBride
Ticket Information
Available on-line.  please go to buytickets.at/CuerdenValley
Ticket Prices for day ticket

Buy on line – before 1 April 2020 for pre-sale discount
Adults £12 (including a drink from the main bar with Friday tickets)
Age 12- 17 years £8 (including a soft drink with Friday tickets)
Under 12's free – but they must book a place
Buy After 1 April
Adults £15 (including a drink from the main bar with Friday tickets)
Age 12- 17 years £10 (including a soft drink with Friday tickets)
Under 12's free – but they must book a place
Bring your printed tickets or proof of purchase on your phone along with your ID to collect your wristband at the entrance gate.
Car parking: £8.00 – there is limited parking for this event. If you intend to drive we recommend buying a parking ticket with your Festival Tickets. Please show you parking ticket at the car park entrance.  There is a dedicated drop off/pick up point for cars and taxis at Wigan Road car park entrance.
Valley Vibes FAQs

Will the festival be family friendly?
Yes! We aim to create a welcoming , fun and safe family festival at Cuerden Valley. Our kids' zone will be open on the Saturday & Sunday of the event, including Inspire Youth Zone Chorley helping to provide entertainment for children of all ages including crafts and face painting.
Can U18's come along without an adult?
No, U18's must be accompanied by a responsible adult.
Can I bring my dog?
For the safety and comfort of all guests, dogs (and other pets) except Guide Dogs will NOT be permitted.
What about water bottles?
EMPTY plastic water bottles are permitted. Water stations will be provided for free water refills. Please do not bring glass bottles as these will be confiscated.
Is the festival accessible?
We want Valley Vibes to be accessible to all! Disabled Parking will be available upon booking to those that hold a blue badge. Easy Access toilets and an accessible stage viewing area will also be provided. However, the Festival is being held on a field so the terrain may be a challenge for anyone with mobility problems.
How do we get to you?
The Festival will be held on the field close to Wigan Road (A49).
This is close to J1 M65 and J29 M6.
Limited parking will be available and this must be booked on-line when you book your tickets.
There will be a dedicated pick up / drop off point at our Wigan Road Car Park a short walk from the arena, ideal for those travelling from nearby. This is also the dedicated taxi pick up/drop off. We have partnered with Avacab to offer a discounted taxis to the festival. Please call 01772 424242 to book your taxis.
Can cars be left overnight?
Cars may not be left over-night unless you have booked a parking space for the following day.
Will I need to bring ID?
We will have a Challenge 25 policy in operation throughout the weekend, so if you look under 25 please expect to have your ID checked. The following forms of ID will be accepted:
Passport
Full / Provisional Driving Licence
Proof of age card bearing a PASS hologram
A Ministry of Defence Identity Card
A National Identity Card issued an EU member state.
Photocopies will not be accepted. Please note there is no legal right to be served alcohol and service is always at the discretion of the licensee. The licensee is under no obligation to provide a reason if a sale is denied.
Can I bring my own alcohol with me?
No. Please do not attempt to bring alcohol onto the site. You will be refused entry.
What's the drugs policy?
We have zero tolerance on drugs. Bags will be searched on entry.
Will camping be available?
No sorry, camping is prohibited at the Festival and in any part of the Park
What if I have bought a ticket but can't come?
We're sorry but all ticket purchases are non-refundable.
Will we be able to pay on the gate?
Yes, limited tickets will be available on the gate, if they haven't all sold on-line.
Will I be able to get cash out on site?
No. The nearest cash point is Bamber Bridge Sainsburys. Tickets and drinks tokens can be purchased by card. Other food vendors and traders may only accept cash
Do the bars take cash?
No. For speedier service the bars will only accept tokens that will be on sale at the event which you can buy with cash or card.
What if the event is cancelled?
We will do our best to ensure the event goes ahead whatever the weather. However , if circumstances beyond our control require us to cancel the event, a full refund will be given on proof of purchase.
What if I want a stall or concession at the event?
If you are interested in having a stall or food concession, please send you enquiry to valleyvibes@cuerdenvalleypark.org