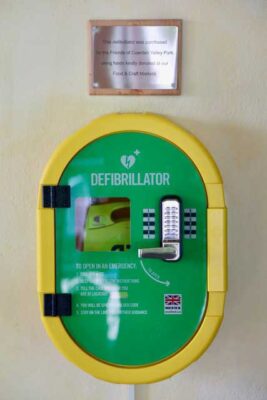 A new lifesaving defibrillator has been installed at Cuerden Valley Park, purchased with monies raised by the Friends of the Park at their monthly Food & Craft Market.
Linda Phillips, spokesperson for the Friends Committee said:
"We would just like to say a huge thank you to everyone who came to see the unveiling of a new defibrillator, which was donated by the Friends of Cuerden Valley Park at our monthly Food & Craft Market last Sunday. It was fantastic to see so many people there, supporting our wonderful stallholders and special guests."
"We were delighted to welcome local hero, Jonny Mitchell, who represented Team UK in the 2018 Invictus Games in Sydney, winning a bronze medal for powerlifting.  Jonny is currently in training for the 2022 Invictus Games in The Hague and we wish him every success. We are so grateful that Jonny took time out of his busy training schedule to join us.  Jonny, who is a regular visitor to Cuerden Valley Park, made the presentation of a fully automated defibrillator on behalf of the Friends of Cuerden Valley Park to Conrad Hayton, Chairman of Cuerden Valley Park Trust."
The defibrillator is located on the outside of the Visitor Centre and is accessible to Park users and the local community 24/7. It was installed free of charge by local electricians Elecktec Ltd. We sincerely hope that it will never be needed, but it is reassuring to know that the Park now has one available with the potential to save lives.
The Friends are especially grateful that representatives from Lancashire Fire & Rescue Service (Leyland), Lancashire Constabulary Neighbourhood Policing Team and two Community First Aid Responders gave up their valuable time on a Sunday to come and support the occasion. They were a huge hit with the crowds, especially with the children, who had lots of fun playing with the fire engine and the Police cars. We have so much admiration for all the amazing work our emergency services undertake each and every day, to keep us safe, and would like to thank them for everything they do.
We couldn't have envisaged for a moment that Lancashire Fire & Rescue Services would be back in the Park later that night when unfortunately they had to respond to a fire at the Visitor Centre. Despite the temporary closure of the Visitor Centre because of the fire, the defibrillator remains accessible and usable should the need ever arise.