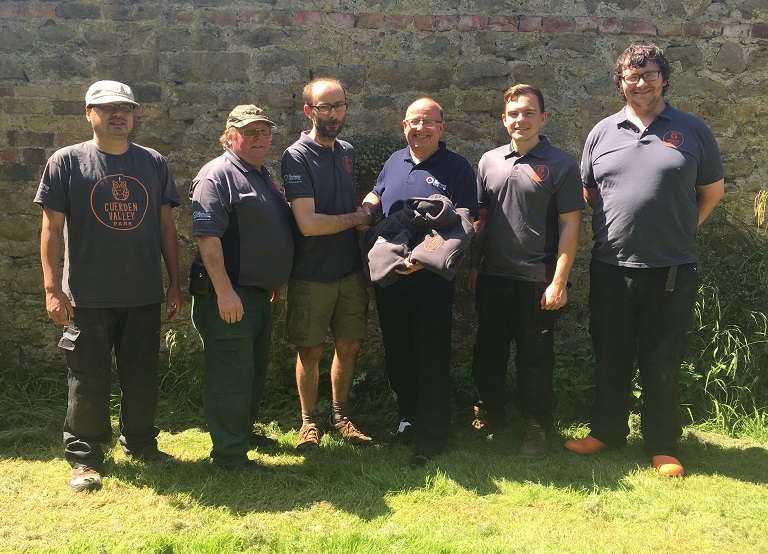 Staff and volunteers at Cuerden Valley Park are now easily identifiable as they go about their work, thanks to their new uniforms sponsored by the Park's insurance broker.  The Insurance Centre in  Lancaster has generously provided a rage of clothing for the Park's eight staff.  In addition, they have also provided t-shirts for the regular volunteers that help with tasks around the Park, which help to highlight their presence and the important work that they do.  The old uniforms were worse for wear and the replacement items compliment the Park's new branding.
Cuerden Valley Park was established in 1992 and comprises 650 acres of meadows, woodlands, farmland and semi-formal gardens close to Bamber Bridge, Leyland and Chorley.  It's popular with families and dog walkers who enjoy strolling along the river, around the reservoir and through the woods.
Director of The Insurance Centre, Carl Balshaw said, "We are delighted to sponsor the uniforms for Cuerden Valley Park.  We have been associated with the charity for many years now and it's great to be able to further help them in this way".
Simon Thorpe, Park Manager said, "We are enormously grateful to The Insurance Centre for their support.  The services they provide to the Trust are vistal in keeping the Park, the public and our employees safe and protected.
The Insurance Centre has been advising the Trust for many years on the full range of insurance covers that are necessary for a visitor attraction business.