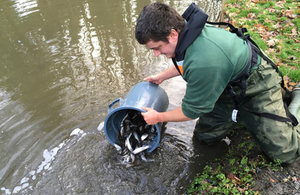 In December, the stretch of the River Lostock flowing through the Park was given a Christmas present by the Environment Agency.  They released 4,500 fish, a mix of Roach, Dace and Chub, to help boost fish populations in the river.  This action helps to replace the 100's of fish that were lost following a pollution incident upstream in 2017.
The fish were collected from Calverton Fish Farm near Nottingham.  Calverton works hard to produce the healthy fish needed for recovery and re-stocking and is the Environment Agency's principal supply of coarse fish.
Each year the farm produces around 450,000 fish of nine species, including Barbel, Chub, Dace and Grayling, for restocking into rivers following pollution incidents, to help restore fish stocks in rivers recovering from poor environmental quality
Bill Sanders, Senior Ranger, said: "We are grateful to the Environment Agency for restocking the River Lostock.  The biodiversity of the River, and the Park as a whole, is important to us and we're really pleased to have this boost to fish numbers".
Fishing is not allowed in the Park. It's important to report any environmental incidents, such as fish kills, illegal poaching or pollution, to the Environment Agency's incident hotline, open 24 hours, on 0800 80 70 60.