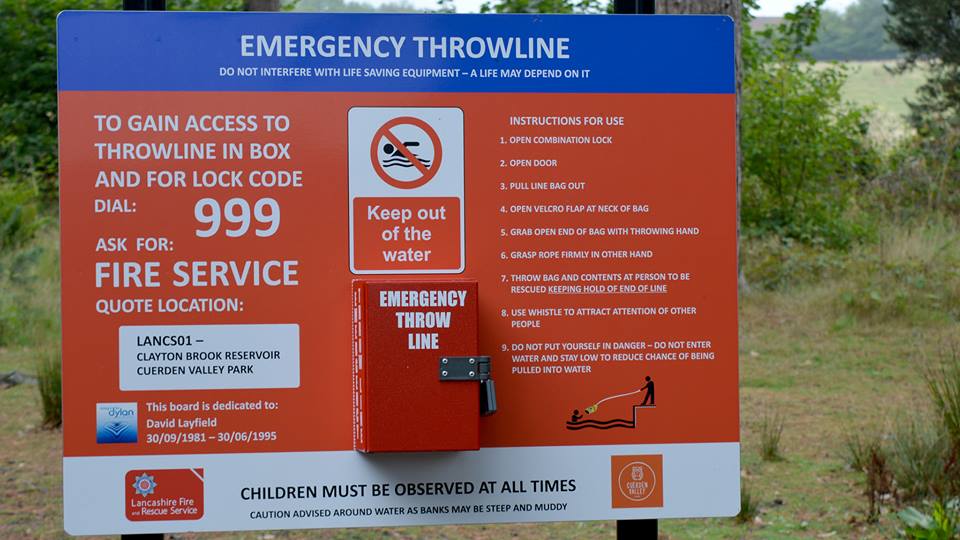 Two Water Safety boards have been installed in Cuerden Valley Park. The boards include key life-saving advice and equipment. The boards are made especially for their positions at the side of the reservoir (lake) and contain a unique location code so that emergency services can locate an incident as quickly as possible. They also contain a whistle and throw line which give people a means of assisting someone in trouble without the risk of entering the water themselves.
Lancashire Fire and Rescue Service (LFRS) are piloting the scheme to introduce Water Safety Boards at key locations following several open water fatalities and rescues of young people and adults by emergency services personnel over recent years and are adopting the initiative that was put forward by South Yorkshire Fire and Rescue Service last year.
Installing water safety boards does not condone swimming but recognises that water safety messages do not always reach absolutely everyone who might not be aware of the dangers. The boards then act as a further tool to prevent fatality numbers.
The boards at Cuerden Valley Park are placed in memory of two boys who lost their lives in open water. David Layfield and Dylan Ramsay were both just fourteen when they drowned, David at Cuerden Valley and Dylan at a nearby location. Site Manager from the Cuerden Valley Park Trust, Simon Thorpe, said; "We recognise the work Lancashire Fire and Rescue Service are trying to do in our community and we're more than happy to have the boards installed within the park. It can be easy to miss the dangers of swimming in open water especially during the summer months when it can look so inviting. But cold-water shock and what lurks under the surface are real dangers. We hope that having these boards in place will not only make people reconsider their actions but also provide an aid should someone fall inti the water and get into difficulties.